Gmail Comparison of Personal and Company Email Edition (Google Workspace)
Top 3 Differences of Personal and Company Gmail
Google has Company Gmail Edition which is available as one of the tools in Google Workspace, a cloud-based productivity and collaboration suite for Enterprises. The Google Workspace is also broadly known as the business version of Gmail, Gmail for Business, Google Company Email, Gmail Company Inbox, etc. This Corporate version of Gmail provides more advantages in terms of management, collaboration, and security compared to the Free version of Gmail, which is the personal email. This article explains the top 3 differences between Personal Gmail and Google Workspace and helps you to choose the best for your business. (Related Articles : What is Google Workspace? Learn Google Workspace in 5 minutes)
First Differences:
Personal Gmail Is Unmanageable but Business Email Is Manageable
The key differences between Free Gmail and Company Inbox (Google Workspace) lie in resource ownership. Corporate Gmail has the highest control over all accounts including the data and the resources. However, this differs from Personal Email where the resources are solely owned by the individuals. As a result, the company has no rights on personal user accounts nor in terms of inbox, account management, etc.
For example, when a staff member resigns, all the files and data accumulated in the staff's personal Gmail will be "resigned" as well. This applies the same to other Google service accounts such as Google Analytics, Google AdWords, etc. Upon the individual resignation and personal password changes, the company loses its access to any data related to the business.
However, this is not the same with Company Gmail. All the files and data are saved and secured to be managed by the corporate although the staff resigns. Moreover, the administrator can even transfer the data of a specific user to a new employee's account (if needed) through the data migration tool available in Google Workspace. Henceforth, the retention and security of data will no longer be affected by any personnel changes.
| | Personal Gmail | Company Gmail (Google Workspace) |
| --- | --- | --- |
| Design Concept | Personal Use | Company Use (Business Gmail) |
| Account Ownership | Personal User | Company/Business Unit |
| Access Right Ownership | User's with the Password | Business Administrators |
| Resource Access Permission | Requires User's Permission | Have General Access |
| When Company Looses Access due to Personnel Changes | Lose access to all data and services related to the account, & re-establishment is required | Data can be saved or transferred by administrators, & services in use can continue to be accessed |
Second Differences:
Personal Gmail Is Free but Company Email Is a Subscription Service
Personal Gmail is free of charge, however, Google Business Email (Google Workspace) is a paid subscription. (See Google Workspace pricing for Malaysia here). Compared to Free Gmail, Google Company Email is designed with exclusive features such as collaboration and management features, especially for enterprises. The following are the unique features of Google Workspace, the corporate inbox:
Your company email address as @yourcompanyname.com, instead of @gmail.com
With Google Company Email, you can have your company name as your domain name to send and receive emails. If you have multiple domain names for different subsidiaries, you can use them simultaneously on one platform. This is very useful for companies with multiple subsidiaries with the need to have multiple domain names. Nevertheless, Google Workspace allows up to 600 domains for a single account. (If you want to know more about domain name and restrictions, you can search for Domain Name FAQ, or do I need a domain name to use business email).
Company Gmail includes Administrator Management Console which is not available in Personal Gmail
Google Workspace includes Admin Console which is a tool an Admin can use to manage the business account such as file permission settings, etc. For example, the company manager can set up access only for the Business department to share and transfer files with an external party, such as customers, vendors, etc. With these settings, other users apart from Business departments will not be able to share the files externally.
Customer Support is Available for Company Gmail
Google Workspace Administrators can reach Google Support 24/7 through Phone or Chat for any Technical queries. If you subscribe through Google Authorized Reseller, you will also have Technical Support including exclusive support such as local language speaking customer service, a personalized customer support portal, etc. (You may refer to Considerations for choosing a Google Workspace reseller to know more).
Double the Storage of Personal Gmail and A Choice to Have Unlimited Storage
The maximum cloud storage for Personal Gmail is 15GB, however, with Google Workspace Business Starter, the basic edition of Company Gmail comes with a maximum storage of 30GB (including company inbox and Drive storage), which is eventually double the capacity of Personal Gmail. If you choose a higher edition of Google Workspace such as Business Standard and Plus, you can have 2TB or 5TB of cloud storage respectively. The higher edition of Business Gmail allows you to have as much storage as you want – 'Unlimited Storage'.
Beyond Just an Inbox, Company Gmail includes Varies Collaboration Tools
Gmail inbox is one of many tools that are available in Google Workspace. It includes other collaborative applications such as Google Calendar, Google Drive, Google Spreadsheets, Google Documents, Google Sites, etc. There are almost 50 other applications that are included in Google Company Email (Google Workspace) with just one list price based on the edition you prefer.
Third Differences:
Gmail Is Designed for Personal Use and Google Workspace Is Designed for Company Use
In addition to centralized management and the charges differences (Personal Google Email is Free and Company Gmail is Paid Subscription), the major difference between Personal and Company Gmail is the design concept of this product. Personal Google Email is specifically designed for personal users, however, Google Company Email is specially designed for Company use for business collaboration.
Since the Free Google Email is designed for personal users, it does not have the flexibility to manage the team and the sharing feature is limited to individual users. For example, when personal Gmail users want to share a Drive file with multiple users, they have to input each user's email one by one in the sharing column. However, this can be done in a single click with Google Workspace where the user can just select the team that they wanted to share the Drive files with instead of adding the email addresses one by one. This feature brings time-saving and improves collaboration in the company.
Gmail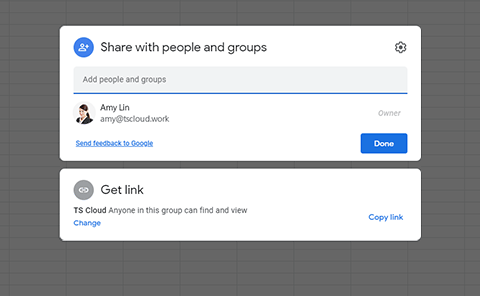 In Personal Google Email, if you have 4 people with whom you will need to share the Drive files in your corporate, you will need to enter the 4 users' email addresses 4 times in order to share the files with 4 users respectively.
Google Workspace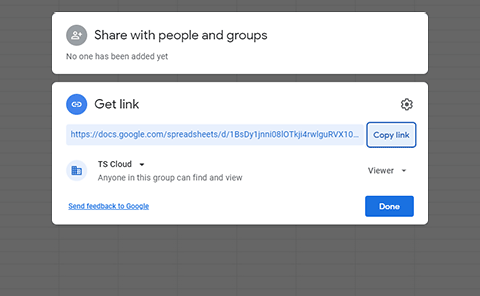 In Google Workspace, you can see all the users in the same domain have the default viewing permissions. If you wish to give editing or comment permissions, you can select the organization through a drop-down menu and update the access with just one click.
In today's era, a company with a large number of employees may encounter many inconveniences in terms of team collaboration and productivity if the company uses the Free Google Email as their corporate mailbox. However, with Google Company Email (Google Workspace) which is specially designed for Enterprises, team collaboration brings ultimate productivity to the company.
Due to the differences in the way the product is designed, Google Workspace, the company Gmail is advanced with more flexibility and security compared to the Free Google Email. These include internal permission adjustment, information visibility, file sharing, and collaboration. Apart from that, you can also create a shared group inbox with Google Business Email that can send up to 2,000 emails per day. It brings more convenience to enterprises with a need to send a large number of emails every day!
Get started on your free trial!
If you're interested in using Google Workspace
1800-18-3155 (Weekdays: 09:00-17:00)
Google Workspace Key Features