Gmail Comparison Between Personal and Business Edition (Google Workspace)
The Top 3 Differences Between Free Gmail and Company Gmail
Google has Business Gmail Edition which is available as one of the tools in Google Workspace, cloud-based productivity and collaboration suite for Enterprises. The Google Workspace is also broadly known as the business version of Gmail, Gmail for Business, Google Company Email, Gmail Company Inbox, etc. Google Workspace Gmail, or business Gmail, has more advantages than a free personal Gmail account, with added management and teamwork features perfect for any size of the company. Below, we explain the top 3 differences between personal Gmail and business Gmail to help you to choose the best version for your business. (Related Articles : What is Google Workspace? Learn Google Workspace in 5 minutes)
First Differences:
Business Gmail Can Be Managed Centrally, but Personal Gmail Accounts Are Privately Owned
The key difference between a free Gmail account and company Gmail (Google Workspace) lies in resource ownership. Google Workspace gives your business the highest control over employee accounts. Personal Gmail is owned by the individual user, which means the company has no access rights to employees' personal email accounts or their contents.
When a staff member leaves the company, all the files and data in their personal Gmail account will leave with them. This also applies to other Google service accounts such as Google Analytics, Google AdWords, etc. Once the staff member has left and changed their personal password, unlike business Gmail, the company loses its access to any data related to the business.
With Google Workspace all files and data can be transferred by the administrator to a new employee's corporate Gmail account (if needed) through the integrated data migration tool, protecting the security of any business information in the original account.
| | Personal Gmail | Business Gmail (Google Workspace) |
| --- | --- | --- |
| Design Concept | Personal Use | Business use |
| Account Ownership | Personal User | Company/Business |
| Access Rights Owned by | Personal user with password | Business administrators |
| Permission to Access Resources | Requires user's permission | Administrator access |
| How Personnel Changes Affect Company Access | Loss of access to all data and services related to the account & New account required | Data can be saved or transferred by administrators & Services in use can still be accessed |
Second Differences:
Personal Gmail Is Free, but Business Gmail Is a Chargeable Subscription Service
Personal Gmail is free, but business Gmail is a paid subscription service. (See Google Workspace pricing for Malaysia here). Google Workspace is designed with business in mind, featuring collaborative and management features to help ease workflow. Unique features include:
Your Company Email Address As @yourcompanyname.com, Instead of @gmail.com
Google Workspace (the company Gmail) allows you to have your company name as your business Gmail identifier. This is useful if you have multiple domain names for different subsidiaries as you can use them simultaneously on one platform. Google Workspace allows up to 600 domains for a single account. (Find out more about multiple domain FAQs.)
Admin Console Is Included in Google Workspace, but Not Free Gmail
Google Workspace, the business Gmail includes Admin Console – a business account management tool that allows administrators to control account permissions for company Gmail users. For example, the manager can set up access to allow only the business department to share and transfer files with external parties (such as customers and vendors), while not allowing other departments to share the files externally.
Customer Support Is Available for Google Workspace Users
Google Workspace Administrators can reach Google Support 24/7 through Phone or Chat for any Technical queries. If you subscribe through Google Authorized Reseller, you will also have Technical Support including exclusive support such as local language speaking customer service, a personalized customer support portal, etc. (You may refer to Considerations for choosing a Google Workspace reseller).
Business Gmail Has Double the Storage of Personal Gmail and the Ability to Add Even More
Google Workspace Business Starter includes maximum storage of 30 GB per user (including company mailbox and cloud storage), double the storage of a personal Gmail account, which is 15 GB. When you upgrade to Google Workspace Business Standard or Plus, you can increase your storage to 2 TB or 5 TB respectively.
More Than an Inbox – Google Workspace Includes a Variety of Collaboration Tools
Gmail is only one of the many tools available in Google Workspace. Around 50 other applications (such as Google Calendar, Google Drive, Google Spreadsheets, Google Documents, and Google Sites) are included at no extra charge in your preferred subscription level.
Third Differences:
Gmail Is Designed for Personal Use, but Google Workspace Is Designed for Business
The major difference between free Gmail and business Gmail (Google Workspace) is the design of the product. While free Gmail is designed for personal users, Google Workspace is specifically designed for business use, with business Gmail and team collaboration capabilities.
As free Gmail is designed for personal use, it does not have team management capabilities, and file sharing is limited to individuals. When a Gmail user wants to share a file with multiple individuals they must input each user's email address one at a time. A Google Workspace user can do this in a single click by accessing their corporate Gmail and selecting the team they want to share the files with, instead of adding individual email addresses one by one. This important feature saves time and improves collaboration.
Gmail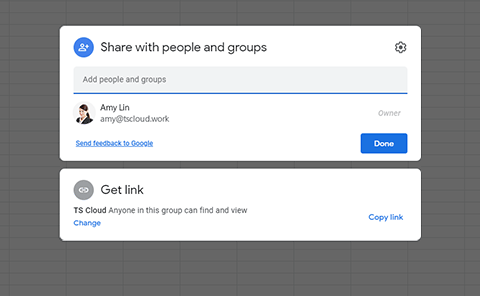 In personal Gmail, if you want to share a file with 4 other people, you will need to enter their email addresses one at a time in order to share the files.
Google Workspace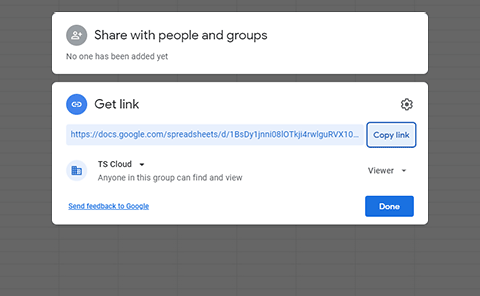 In Google Workspace, you can see that all the users in the same group have permission to view. If you want to alter permissions, either individually or for each group, you can do so through a drop-down menu in your business Gmail, and update access with one click.
Large businesses using personal Gmail may encounter difficulties with team collaboration and productivity. Google Workspace, however, is specifically designed for enterprise, enhancing productivity and teamwork, with more flexibility and security. Google Workspace, the business Gmail also allows the creation of shared group inboxes in your Google company email that can send up to 2,000 emails per day – perfect for businesses that need to send a large number of emails every day.
Get started on your free trial!
If you are interested in using
Google Workspace
Google Workspace Key Features