Sales Automation
Pipedrive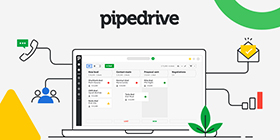 Systematize Your Sales Information, Track the Status of Your Customers, and Improve Your Sales Force
Generally, the sales rep's job is to generate revenue, but are they are constantly sorting through various customer data and are rushed by reports, do not have time to close a new customer's deal, or track the status of orders? Instead of sales reps spending time organizing the sales data, it's better if dedicated tools clearly organize data for the sales team so that the deal status, customer data, and profit numbers are clearly visible. Sales reps no longer need to spend time entering data and can have more time to close deals and manage customer relationships.
Do you have these problems?
You spend money to buy a CRM system, but the user interface is complicated, making it difficult for users to get started and leading them to end up not using it.
Customer information is scattered across different spreadsheets because there is no single set of rules. As a result, it takes a long time to find the information you need , and sometimes you do not even know where to find it.
There is no uniform record of individual customer transactions. And even if you did record them, there is no way to track the status of the deal or see the total profit at a glance.
Sales reps spend a lot of time creating sales reports every time. If the numbers change, they have to re-enter them, and mistakes are often made when data is entered manually.
3 Keys to Success
Use Pipedrive to Manage Sales Data: Get the Information You Need in Real Time While Streamlining the Sales Process
➤

The simple user interface simplifies sales information and makes it easy to get started when you first start using it
➤

The data is automatically generated into real-time analytics that gives the user insights to make real-time decisions.
➤

Data is generated automatically into real-time analytics to give users insights for making real-time decisions.

The First Key
Easy-To-Use Interface: Beginner-Friendly.
According to the survey: 90% of the factors that prevent salespeople from using CRM smoothly are due to the complicated user interface, which reduces users' interest in learning and using the application. Pipedrive is designed to provide convenience to users rather than forcing them to make another effort to learn the user interface. The user-friendly interface allows users to work according to their usage habits.
In addition, pipelines can be customized and various activities such as follow-ups, deadlines, etc., can be scheduled for each customer transaction. Orders that have been left unattended for too long are automatically reminded, so the team never misses taking care of a customer. Existing customer lists can be easily exported via spreadsheet, so you do not have to manually enter the information when you change systems.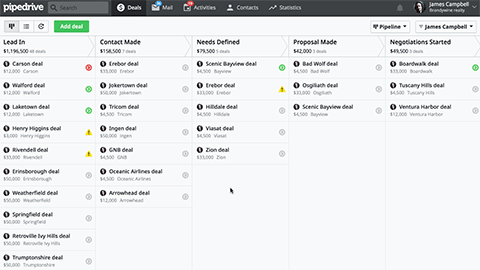 The Second Key
Deal Status and Customer Data Are Visible at a Glance, Allowing the Sales Representative to Track Progress to Ensure a Successful Conversion.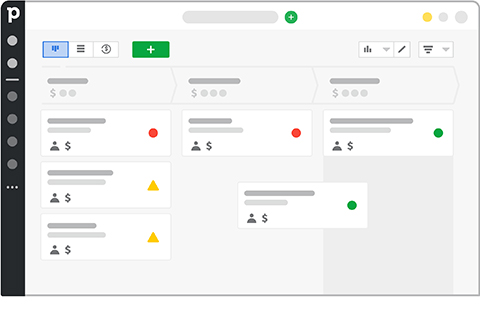 Sales data is often scattered among sales reps. If you use a dedicated sales tool to integrate and analyze this data, the manager and team can track progress directly by looking at the pipeline. This makes it easier for the sales team to engage with customers. It also allows the sales team to track lost customers so they can take appropriate action to meet the customer's needs in the future, which helps increase conversion rates.
In addition to clearly tracking deal status, all calls, emails, and contact histories can be clearly displayed for each customer deal. Even if a sales representative is on vacation, another colleague can clearly check the customer status and reduce handover costs. To retrieve relevant customer details, you can create filters and export the customer list. In this way, the sales representative can easily organize the data without doing repetitive tasks. This way, the sales team does not have to constantly use spreadsheets to enter customer data, keep track of business history, and skip the situation of not knowing how to respond to the boss.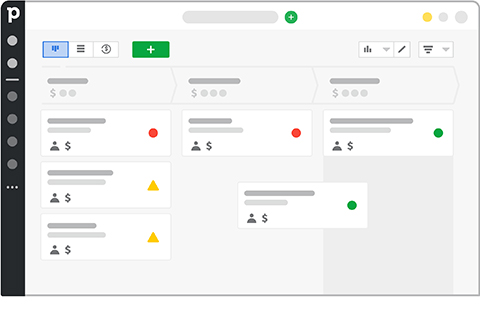 The Third Key
Automatically Update Sales Reports and Visualize Data So You Can Make More Organized Business Decisions.
Do you always spend a lot of time writing sales reports? Do you have to recreate a report after the data has been updated weekly? Pipedrive saves you from the nightmare of repeated reports. Pipedrive can not only record all customer and sales data but also automatically convert this data into real-time analytics such as bar charts, pie charts, etc. Important data such as performance, conversion, duration, and progress are also automatically generated for you. This will save you a lot of time in creating reports and avoid possible human errors in manual data entry.
Sales insights with real-time data in a visual interface are the best tool for the sales team to further discuss sales process optimization and conversion. Thanks to the various chart templates, sales reps not only have more time to engage with customers instead of creating reports, but can also use this visual data and information to formulate and improve future sales strategies and achieve longer-term sales success.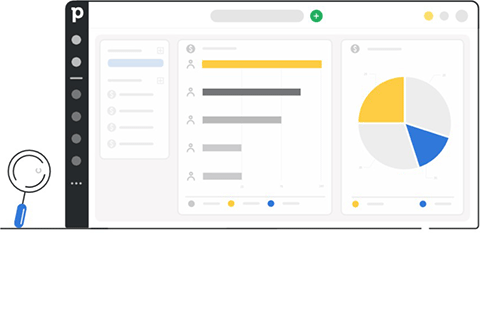 Is Pipedrive Suitable for My Company?
Suitable

If you allow customer data to be stored in the cloud

If you has a sales process, e.g., proposal, quotation, etc., and wants to systematize that process

Requires affordable system with high CP

If your company currently uses other SaaS services (e.g., Google Workspace) and is looking to integrate the two applications
Not Suitable

If you do not want customer data to be stored in the cloud

If you do not have a sales process, e.g., a retail store, online store, etc.

If you require a well recognised and expensive system

If you requires ERP integration with the system, but does not have IT employees
3 Steps for Implementation
Systemize the Sales Process
Please understand the logic of the system field design in advance, while identifying the sales process that exists internally and the fields and reporting requirements that are needed. If you need assistance, you can take advantage of our "Consulting Service". There will be an online session with the specialist that will last approximately two hours. In this session, you will be explained in detail how to plan the sales process and data fields. At the same time, you will receive a form that you can fill out and submit to the specialist for assistance with the subsequent settings.
Sales Process and Access Levels Settings
Set the data fields, user accounts, and access levels for the system according to your company's needs. If you have purchased the "Consulting Service", you only need to submit the completed form and the expert will help you set up the data fields in the system (you can contact the specialist if you still want to make changes within a month after the meeting).
Internal Training
After the system is set up, you will need to train your internal staff on how to use the system and explain common practices to them. If you would like us to provide the training, you can purchase the "Consulting Service" with online training videos.