The ultimate cloud-based office suite for startups
Access to all the indispensable apps for desk job simply upon logging in and save you time and money on acquiring PCs and Office software.
Cloud era has changed IT for startups drastically
Things like purchasing IT equipment for employees, setting up servers and making a website is not easy for startup companies back in the old days. However, thanks to the advance of cloud technology, tools that were once considered must-haves can be replaced by a more cost-effective cloud-based solution that takes only a few days to apply.
| | In the past | Cloud Era |
| --- | --- | --- |
| PC | Must get one for each person | BYOD |
| Office software | License based, per seat. (Or using the pirate version.) | Subscription based office suite in the cloud. |
| Website | Expensive project by a web design agency that took months to launch. | With DIY website builders such as Wix and Google Sites, anyone can make nice-looking websites easily. |
| Mail / Web Server | Fixed-price contract VPS hosting | Pay-as-you-go Cloud hostingo |
| File Storage | On-premise File Server / NAS | Cloud storage options like Dropbox and Google Drive. |

Perfectly fulfills the need for better communication, collaboration, content management and centralized administration.
Connect
Reach your colleagues wherever they are.

Create
Everything you need to bring your project to life.

Access
Store files and find what you need instantly.

Control
Manage users, devices, and data securely and easily.

We setup your G Suite workplace in 3 days
From domain registration to every detail of deploying G Suite, we take care of all the technical work and leave you with a fully configured digital workplace ready for your team.
1st year .com.my or .my domain as gift
Pick a .com.my or .my domain for your business. The first year domain worth of RM80 is included in the value pack and we willl setup the domain for you.
Google Sites custome URL setting
You can build your own corporate homepage without any professional skills using Google Sites as easy as using products like Wix. We will help you setup custom URL like http://www.yourcompany.com.my for your Google Sites.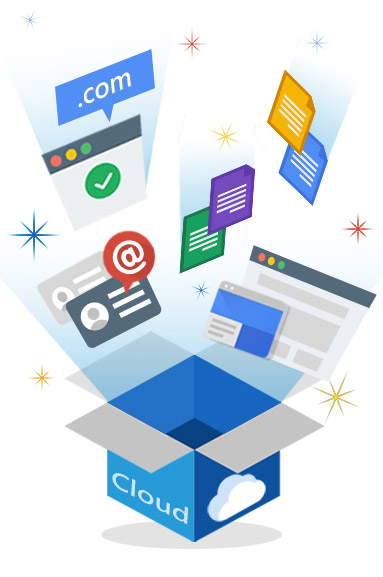 EMAIL@YOURCOMPANY.COM.MY
Set up email addresses at your domain like user@yourcompany.com.my. Just give us a list of your users and we'll create all of them for you.
No need to buy Microsoft Office
Google's version of Word, Excel and PowerPoints, only better. No need to buy Microsoft Office.
Pricing
1 G Suite Basic License

(List price RM264)

-Business email: Gmail
-Office software: Google Docs, Sheets, Slides, Forms
-Calendar: Google Calendar
-File storage: Google Drive
-Website builder: Google Sites
1-Year Domain included

(worth RM80/yr)
DNS configuration and management

(worth RM240/yr)

-Google Cloud DNS configuration
-Google Cloud DNS usage fee
-Google Cloud DNS management fee
G Suite initial setup service

(worth RM50/user)

-G Suite DNS verification & MX setup
-G Suite Admin Console setup
-G Suite user configuration
Google Sites custom URL setup

(worth RM100)
G Suite Enterprise Yearly Support

(worth RM40/yr/user)

-Dedicated support line in English / Mandarin
-Emergency alert message
-Shared contacts
Terms & Conditions
G Suite Value Pack for Startups's primary target is new startups established in less than 2 years.
We charge RM264 for each additional user license per year.
We look forward to doing more business with you in the near future when your company becomes bigger and need to purchase more licenses for your team.