Available functions of IP Restrictions and SSO.
Access Control and Device Management Solution – CloudCode
Google's G Suite allow its uses to access it anytime, anywhere, and any device. While Google continues to add new services to the G Suite, there are certain functionalities that some companies may require for specific reasons. These may run against the core concepts of G Suite but nevertheless can be complemented by solutions from third-party vendors.
The "Anytime, Anywhere, Any device" concept advocated by Google is indeed very convenient for users. However, its also the reason why companies with higher security requirements are not adopting G Suite. CloudCode is a third party vendor providing access control and device management solutions that G Suite does not currently offer. Large enterprises should consider their solutions when deciding to adopt G Suite.
CloudCode Features (1 of 3): Access Control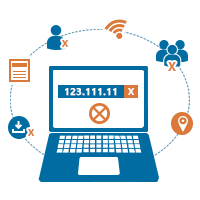 IP Restriction
Administrators can set rules to control which IP locations can access corporate data to ensure valuable information is available to trusted IP addresses
Administrators can choose to apply rules to specific individuals, groups, or entire organizations.
Rules can be set in different levels, allowing flexible management.
Pre-defined IP locations where a user log in from.
No firewall or installations required
Easy policy settings
Introduction to advanced access control functions

Geo Fencing
Specify the geographic area where login is allowed to prevent corporate data intrusion from unsafe locations.

Time Restriction
Time based control where access to data is controlled within a specified time frame. (for example, during working hours)

Browser Restriction
Specify a trusted browser to access corporate data.

Device Restriction
Users are not allowed to log in to the enterprise portal through unregistered or unknown devices.
CloudCode Features (2 of 3): Access Control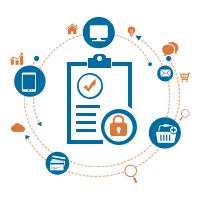 Single Sign On
CloudCode's SSO solution enables users in the enterprise to log in to all cloud applications in the enterprise with a single set of credentials, which not only improves operational efficiency but also ensures the security of corporate data. Users can also be logged in through different mobile devices. In addition to establish various password policies such as length and strength limits, Multi-factor Authentication can also be used to ensure that only authorized users can access confidential information.
Advanced SSO functions

Password Policy
Ability to specify password complexity, length and validity period. Different rules can be applied to different OUs.

Self Password Reset
Allowing self-helped password resets, streamlining processes and improve efficiencies.

Login Broadcast
Customize broadcast content on enterprise login screen, allowing the setting of schedule, duration and repetitions of the message.

User Agreement
Users must agree to the Terms of Use before proceeding during first login. The administrator is able to track status of user acceptance and the ability to update the Terms of Use Agreement.
Features and Pricing Comparison
 
Basic Edition
Advanced Edition
RM40/ year / User
RM120/ year / User
Access Control
IP Restriction
V
V
Device Restriction
–
V
Geo Location
–
V
Time Restriction
–
V
Browser Restriction
–
V
SSO + Identity management
SSO with Unlimited Cloud Apps [SAML Based]
V
V
Password Policy
–
V
Self Password Reset
–
V
Agreement
–
V
Announcements
–
V
Apart from the above, CloudCode offers customized SSO, access control to personal Gmail accounts, improved Shadow IT and other features that enhance G Suite. For more information, please contact our specialists.