Google Workspace Admin Console Managed Service
Let Our Specialists Help You to Manage
TS Cloud provides managed services for the Google Workspace Admin Console, including adding users, email forwarding, and black and white lists. Even if your company does not have IT staff or you do not have time to manage it, you can easily handle all the problems. A professional team will be your trusted Google Workspace administrator.
If you want to manage the Google Workspace Admin Console yourself but do not know how, you can learn about the features and settings in the Google Workspace training courses for administrators and users.
Common Problems Encountered When Using Google Workspace
☑
Do I need to specifically hire an IT admin to manage the email system?
☑
What should I do if I have a problem with Gmail?
☑
What are email blacklists and forwarding settings?
☑
Will it be a mess if I do it on my own?
☑
How to set up a new employee's account? How to hand it over?
☑
How do Google Workspace administrators adjust security settings?
Advantages of Managing Google Workspace Admin Console Through TS Cloud
Save costs for hiring
For SMEs, hiring an additional IT employee to manage Google Workspace is indeed a significant expense. Through our managed service, we can provide you with a professional team to help you with Admin Console settings. Prices start at RM115 per month.
Solve your problems ASAP
Whether there is a problem with sending and receiving Gmail in your company, a new person reports, there is a change in employees or a user needs to be changed, we will promptly help you make the necessary settings in Google Workspace Admin Console to solve your problems.
High security with zero risk
Let an expert manage your Google Workspace Admin Console so you do not have to risk managing technical issues yourself. We will personally take care of the security settings for you, increasing Google Workspace's security strength by 40%.
Main Functions for Admin Console
Add and manage users
Add an account, rename a user, or reset a password.
Create Groups
Create group emails for your department or project needs.
Gmail settings
Set Gmail settings, such as black and white lists, email forwarding, etc.
Drive settings
Assist you to transfer ownership of the Drive files when employees resign.
Calendar settings
Create public resources such as meeting rooms, projectors, microphones, etc.
Add domains
Create a Google Workspace domain alias using the secondary domains.
Assign administrator roles
Assign different administrator roles for your employees based on your needs.
Manage security features
Set up various security settings of Google Workspace.
Set company information
Complete the company profile, such as default language, company logo, etc.
Admin Console Managed Service Process

Needs Confirmation
Implementation
Completion
Google Certified Specialists
As a Google Premier Partner in Malaysia, we have more than ten years of experience with Google Cloud products. With professional knowledge, we have helped thousands of businesses use Google Workspace, with a 95% renewal rate. So you can rest assured that you can hand over the Admin Console to us, and no matter if you have user management or configuration issues, our experienced Google Workspace team can solve them for you immediately. Besides, we will add the most suitable security settings for you based on the requirements and usage of your business to effectively maximize the value of Google Workspace.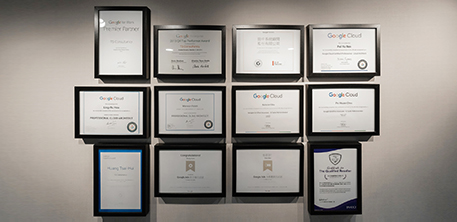 Frequently Asked Questions
QIf we don't know how to use Google Workspace (formerly G Suite) , can you directly sign in to our Admin console and set it up for us?
A
We provide online technical support consultation. If you have any difficulty in operating your Admin console, we can assist you via phone or email. We are unfortunately unable to directly sign in to your company's Admin console to make any changes. If you wish to have a dedicated representative execute setup and changes, you can choose to purchase our Google Workspace Management Service.
QIf we have a problem with Google Workspace (formerly G Suite), would you send someone to our company to handle it?
A
Because Google Workspace (formerly G Suite) is a cloud-based service and its technology is very mature, if you have problems with the operation, we can assist you remotely.
QIf our company has an urgent requirement that needs your assistance, is your team able to handle it in a timely manner?
A
As long as it is working hours, whether it is a phone call or email, you can contact the specialist to assist you. If you choose to contact by email, you can get a reply within 24 hours.
QIf I have already purchased a Google Workspace (formerly G Suite) account, can I purchase the Google Workspace (formerly G Suite) Managed Service midway through the contract period?
Get started on your free trial!
If you are interested in using
Google Workspace
Related Articles
The services listed below are intended to enable you to use Google Workspace (formerly G Suite) safely and optimally.