Google Drive
Cloud Storage for Business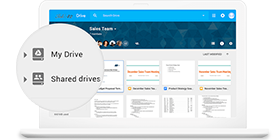 Introduction of Google Drive: Benefits, Features and Pricing
Users can access different types of files in Google Drive. You no longer need to store the files on a local client as they are stored in the cloud. They are automatically saved for you from time to time. Whenever you need to access the files, you just need to connect the device (e.g. smartphone, laptop, etc.) to the Internet instead of rushing to the office.
Google Drive Functions
Files Management
Drive stores data in the cloud. So files are accessible from any device in any location as long as there is an internet connection. No additional software installation is required as uploading, downloading, editing, and sharing files can be done through a web browser. Even if there is a temporary loss of network connection, this has no impact on your work. With "Offline Access", users can open and edit documents even when there is no Internet connection. After the Internet connection is back to normal, the system will synchronizes the data automatically to the cloud.
As for file security, Google provides file sharing security measures. For example, Google scans a file for viruses before it is downloaded or shared, and removes the file as soon as the malicious content is discovered. The "Data Loss Prevention (DLP)," helps configure data scanning and monitoring to prevent sensitive content from being shared outside the domain.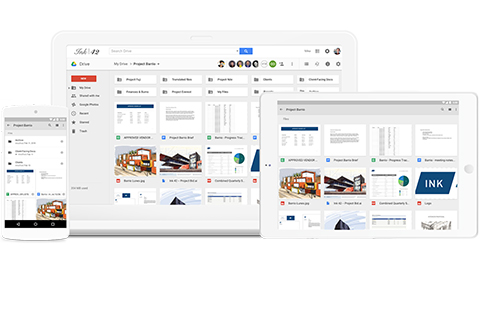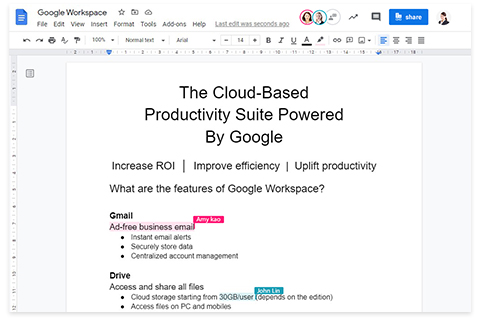 Collaboration
Google Drive can be used not only to store various types of files but also to access Microsoft Office files, such as Word, Excel, PowerPoint, etc. All files can be uploaded and browsed using Drive without the need for file conversion. After editing the file, you can also download it to different file types, such as .doc, .pdf, .csv, etc.
As for sharing and collaboration, cloud files can be shared with others with just a URL, where USB or email attachments are not required. Google Docs collaboration allows multiple users to edit the same document online at the same time, and you can see exactly which user added or changed the specific content in real-time. You can also set permissions for different users when sharing files or folders, such as "Browse Only," "Comment Only," or "Edit Only". There is also a historical version for each document, and you can track the version you want at any time as needed.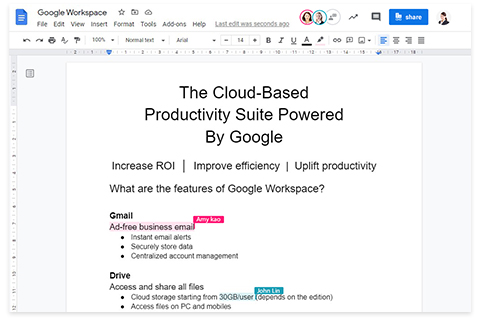 Search
Google Drive has a precise search function. After you enter a keyword in the search box, it automatically filters out files in which the keyword match. In addition to keywords, you can also search the fields by specific file formats, words, owners, sharers, document permissions, and modification periods.
To reduce the time users spend searching, Cloud Drive uses Artificial Intelligence (AI) to predict the files users are looking for and creates a "priority pane" that lists the files that are most relevant to users, so teams can find the files that are most important to them and speed up collaboration.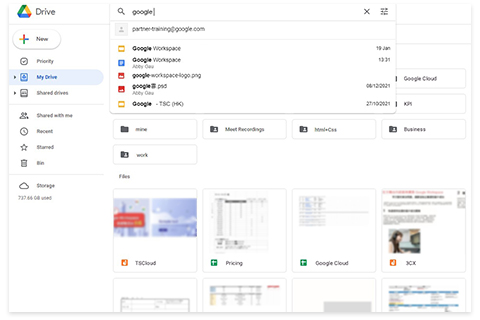 Benefits of Google Drive
Users can access and edit files or collaborate with others anywhere as long as there is an internet connection.
Files stored in the cloud can save maintenance costs and free up local computer storage space.
Changes to files are automatically saved, reducing the risk of data loss in the event of a crash or user error.
Cloud storage automatically encrypts and scans viruses, strengthening information security and preventing loss of confidential data.
Permissions are clearly separated, which is convenient for sharing and collaboration with security in mind.
You do not have to search for information for a long time, because you can find the files you need in real time with the help of keywords.
Drive: Difference Between Free Edition and Paid Edition
Storage
The storage for the free edition is 15GB per user, while the storage for paid edition comes with a minimum of 30GB (except for the Frontline edition) per user.
Files Ownership
The ownership of the files for the free edition belongs to individuals and it is unable to be managed by companies. The files for the paid edition belong to the company where the Google Workspace administrator can transfer all the files of the resigned employees to another colleague as needed.
Groups Sharing
Google Groups account can be created in the paid edition which allows you to share files with different group members at the same time, without having the need to give permissions one by one. You can also pre-set all files in the cloud to be shared with all the team members and allow them to search and view the files accordingly.
Google Workspace Edition With Drive
Google Drive is available in all editions. However, the storage varies from edition to edition.
Frontline
Business
Starter
Business
Standard
Business
Plus
Enterprise
Essentials
Enterprise
Standard
Enterprise
Plus
Google Drive
2GB
30GB
2TB
5TB
1TB
5TB
5TB*
Get started on your free trial!
If you are interested in using
Google Workspace
Google Workspace Key Features