What is G Suite?
Learn G Suite in 5 minutes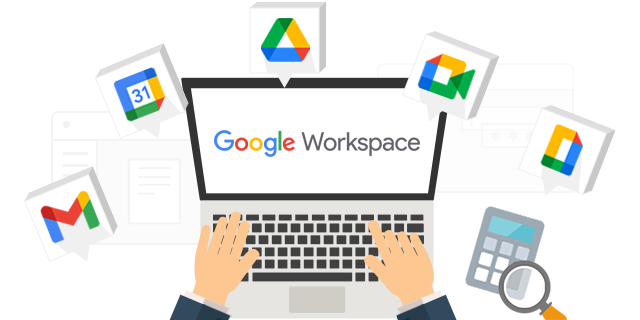 The following article explains the difference between G Suite and the traditional office tool, the difference between G Suite and personal Gmail, tips for using G Suite, pricing, implementation process, and more! Please share this post with the link if it benefits you or if it could benefit someone you know.
Work on Cloud with G Suite vs Traditional Office Tool
G Suite is a cloud office suite developed by Google for businesses. It includes Gmail enterprise mailboxes and Google collaboration tools. It's faster and easier for SMEs to move directly to a well-designed platform instead of spending time researching and exploring different systems.
Some companies worry about their employees using Microsoft Office or their customers using Office, but in reality, anyone familiar with Word, Excel, PowerPoint, etc. can find the appropriate tools in Google and open/edit Office files. Collaboration in the cloud not only does not require extra money to install and update the version, but it also solves the problem of multiple people not being able to open and edit Office files at the same time, making work more efficient.
| Common Issues Using Traditional Office Tool | Work Efficiently with G Suite |
| --- | --- |
| Insufficient Storage | Storage starts from 30GB per user |
| Inconvenience of working remotely | Accessible via web browser using any device |
| Emails and files need to back up manually | Sync automatically and security is guaranteed when storing files on cloud |
| Time-consuming when searching across files | Quick search function helps to search files easily |
| Time-consuming to handle mail issues | Blocks 99% of spam and phishing messages |
| Task handover is difficult when employees resign | Rename the email and used for new hires |
| Difficult to find attachments in mailbox | Files sharing via Google Drive and assign access levels to different users |
| Team members unable to work on a single document at the same time | Work in real-time collaboration |
| Difficult to schedule a meeting time with colleagues | Meeting scheduling is easier by checking the team calendar |
| Announcements cannot be shared efficiently | Make announcement using Google Sites for easy sharing of announcements |
| Submit leave request using paper copies/emails | Submit leave request using Google Forms |
| Expensive video conferencing tool that is difficult to maintain | Stable connection using Google Meet which does not require any hardware |
| API integration is not available | Integration with third-party apps is available |
| Require IT personnel to maintain the system | G Suite comes with various features which is suitable for SMEs as support is included |
G Suite Business Email vs Personal Gmail
Personal Gmail is free, but companies have to pay for G Suite. Is it possible to use Gmail personally? G Suite was developed specifically for businesses. Therefore, it has many features that are not included in personal Gmail. The main difference is that G Suite data belongs to the company and the company has ultimate control over all accounts. Personal Gmail, on the other hand, belongs to individual users, and the company cannot manage individual employees' email accounts. Therefore, if an employee quits, all data can be lost.
The features difference between G Suite and personal Gmail are listed below:
Features
G Suite
Personal Gmail
Email Address
user@companydomain.com
user@gmail.com
Admin Management
Admin Console
Not Available
Technical Support
Support via phone calls/emails
Not Available
Storage
30GB and above (upgrade to enjoy unlimited storage)
15GB
Spam Filtration
1. Spam detection
2. Report/unmark spam
3. Spam filtering
4. Email whitelist
5. Email blacklist
6. IP whitelist
7.Spam filtering for organizational units
1.Spam detection
2. Report/unmark spam
3. Spam filtering
Other Services
1.Over 50 cloud collaboration services and applications
2. Group emails can send up to 2,000 emails daily
Non-applicable
Related Articles
G Suite Edition & Pricing
G Suite has three editions: Basic, Business and Enterprise. After being renamed Google Workspace, there are 7 editions, namely Business Starter, Business Standard, Business Plus, Enterprise Essential and Enterprise Standard Standard, Enterprise Plus and Frontline. The Enterprise plan is a security-optimized version of the Business plan, and Frontline is an edition designed exclusively for frontline employees.
The choice of edition is based on the features the business needs, such as permanent audit data retention, a shared drive, and cloud search to quickly locate data across the enterprise. These features are not available in Business Starter. If your business needs more storage, you can always upgrade the edition. Therefore, it's recommended that you start with Business Starter if you do not have any special requirements.
*If you still have concerns, you can take advantage of the 14-day free trial offered by Google. However, you can also get a 30-day trial through TS Cloud (local reseller). Companies that have not used G Suite before should take this opportunity to learn and explore the features before signing up for a paid subscription.
Pricing depends on the country and the popularity of G Suite. Therefore, G Suite has different prices in different countries. Currently, you get USD 64.8 (RM160) for the first 20 new users. For the remaining users, it costs USD 72 (original price). Even if you buy G Suite in countries that offer a lower price, Google recognizes the credentials and may charge you extra if you do not buy G Suite in the country where you live.
Edition
Frontline Starter
Frontline Standard
Business Starter
Business Standard
Business Plus
Enterprise Essentials
Enterprise Essentials Plus
Enterprise Standard
Enterprise Plus
Storage


(shared)

5GB
5GB
30GB
2TB
5TB
1TB
5TB
5TB
5TB
Price
RM266
/User/Year
RM650
/User/Year
RM160
/User/Year
RM384
/User/Year
RM959
/User/Year
RM533
/User/Year
RM1,085
/User/Year
RM1,225
/User/Year
RM1,599
/User/Year
Related Articles
G Suite Special Editions
Google offers exclusive discounts for certain businesses and nonprofits. The edition includes education and nonprofit. Please see the description below:
G Suite for Education is available for free for educational institutions only and applies to schools at all levels, from kindergarten to higher educational institutions. In addition to the free version, there is also a paid version, G Suite Enterprise for Education, which you can apply from Google or purchase from the reseller.
G Suite for Nonprofits is free for nonprofit organizations (.org). Business Starter and Shared Drive are provided to users and there is no limit on the number of accounts. If you need enterprise-level features and administrator controls, you can also get exclusive discounts when you upgrade to other editions of G Suite. G Suite for Nonprofits cannot be purchased through resellers, but must be applied for directly from Google.
Although there is no so-called G Suite Startup edition, Google has a Startup Program that includes G Suite. The application requirements are relatively specific. You can apply even if you do not own a company. However, the company should not be acquired or taken public, and you must consider a long-term collaboration with Google Cloud to grow your business. Only then are you eligible to apply, and Google has the final decision on this review.
Besides the organizations mentioned above, is there a free version of G Suite? G Suite was formerly known as Google Apps. Back then, there was the free version, and it is still available today. However, Google stopped offering the free version in June 2012.
Google provides many supporting documents for users who want to start using G Suite. If you still have many doubts or concerns about the setup, TS Cloud provides pre-implementation consulting and after-sales support to help you get started with G Suite without any problems.
G Suite Implementation Flow
First, you must have your own domain (<company>.com) before you can apply for G Suite. Then you can submit the application to Google or a local reseller to get a 14-day trial. During the trial period, domain ownership must be verified and MX records must be added to the DNS. After the 14-day trial period is over, you can sign up for a paid subscription if you want to continue using the software.
Related Articles
Please share this post with the link if it benefits you or if it could benefit someone you know.
Contact Us
Interested to learn more about Google Workspace?