Google Workspace
Introduction
Google Workspace

(Malaysia)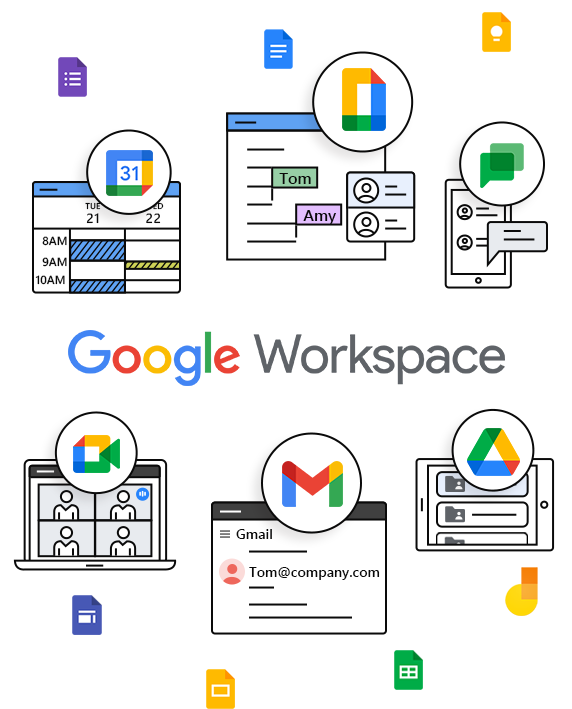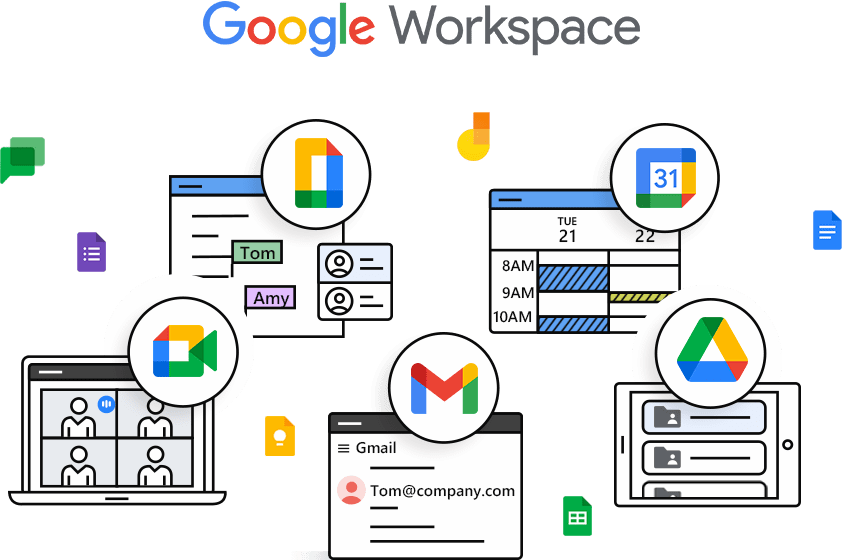 What is
Google Workspace?
Google announced significant changes to its cloud productivity suite on October 6, 2020, renaming G Suite. During that time, it will add more advanced features and provide tighter integration between core G Suite apps, including Gmail, Docs, Sheets, Slides, Drive, Calendar and Meet, particularly in the area of collaboration, and offer a wider range of pricing options to meet the varying needs of businesses of different sizes.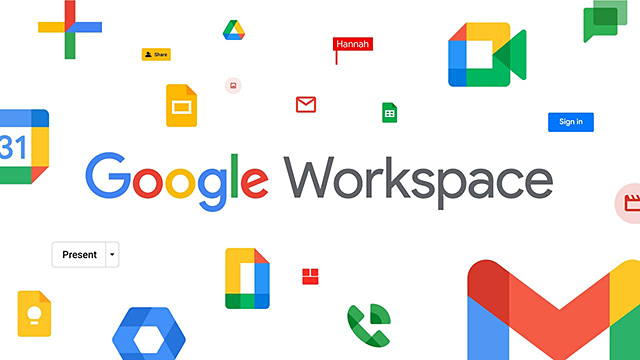 What Are the Features of
Google Workspace?
Key Features:
Custom Business Email

Spam-free and ad-free; safely store important data while centrally managing all accounts.

Drive

All users are eligible to 30GB storage; files shared are accessible via PC and mobile devices.

Meet

Secured video and voice conferencing; accessible via any device without prior apps installation.

Calendar

Integrated online team calendar.

Chat

Secured internal communication platform.

Docs

Documents editing tool for team.

Sheets

Frictionless collaboration and information sharing.

Forms

Create surveys and forms easily.

Slides

Presentation builder.

Sites

Create websites easily.

Keep

Jot down ideas and make lists easily.

Apps Script

Automate your workflows.

Admin Console

Make setup and management fast and easy.

Endpoint Management

Manage endpoints from one place.

Currents

Internal enterprise communication.

Cloud Search

Get the information you need quickly, easily and securely.

Google Vault

Data retention and eDiscovery function.

Work Insights

Track deployment progress of the users.
How Many Eitions Does
Google Workspace Have?
There are six editions available. Find out about storage, prices, and the differences between each edition below.
Business
Starter
Business
Standard
Business
Plus
Enterprise
Essentials
Enterprise
Standard
Enterprise
Plus
Price
USD$6/mth
USD$12/mth
USD$18/mth
USD$10/mth
USD$20/mth
USD$30/mth
Users Limit
300
300
300

X

X

X

Gmail

V

V

V

X

V

V

Storage
30GB
2TB*
5TB*
1TB
5TB*
5TB*
Official Support
8/5
24/5
24/5
24/7
24/7
24/7
Cloud Search
Cloud Search

X

V

V

X

V

V

Google Vault

X

X

V

X

V

V

Shared Drive

X

V

V

V

V

V

Suitable For
Basic needs for cloud-based office tools
Teams & departments
High security needs
Users who wants to have more than just an email
Advanced enterprise controls & customization needs
Top security needs
*Only valid for 5 users and above (1 TB of storage for less than 5 users).
How to Purchase
Google Workspace?
You can either buy from Google by credit card or from a Google Workspace reseller in Malaysia.
Google
Official
TS
Cloud
Price
US$72/Yr
RM240/Yr
Service Charge
6%
6%
Consultation
No
Yes, Free
Customer Service
English
English, Chinese, Malay
Payment Method
Credit Card
Online Banking
DNS Configuration
No
Available
Training Courses
No
Available
Difference between Purchase from Google Workspace Reseller & Google
How Much Is
Google Workspace?
The offer varies from time to time in each country. Currently, there is a special offer in Malaysia that is valid for the first 20 accounts. If you buy a larger number of accounts, you may get a cheaper price through TS Cloud.
TS Cloud Google Workspace Promotion
Edition
New Customer
Renewal/ Transfer Customer
Business
Starter
RM240
RM300
Business
Standard
RM480
RM600
Business
Plus
RM900
RM900
Enterprise
Essentials
RM498
RM498
Enterprise
Standard
RM995
RM995
Enterprise
Plus
RM1,490
RM1,490
*Yr/ User
How to apply Google
Workspace?
You may apply from:
1. Google's official website
2. Google reseller
If you apply to Google, you will have to pay by credit card and do the initial setup and DNS settings yourself. If you want to buy from TS Cloud, we offer a service that will help you activate Google Workspace within 3 days.
Can I get Google
Workspace for free?
TS Cloud offers a 30-day free trial of your preferred Google Workspace edition. This applies to new Google Workspace customers only. You can explore all the features of Google Workspace, including business email, Google Meet, cloud storage, and more. Click the link below to claim your free trial now.
How to Implement
Google Workspace?
Small businesses tend to start using Google Workspace faster than medium or large businesses because of the ease of managing employees. They can either implement it themselves or purchase the DNS configuration service from TS Cloud (setup is completed within 3 days). Larger companies usually have an established hardware setup, so they will plan the system migration steps more carefully.
Small-scale Company

(30 and below)
Medium & Large-Scale Company
Is Google Workspace
Training Course Available?
TS Cloud provides online classroom training courses in Chinese, English, and Japanese to allow all users can easily complete Google Workspace training.
What are the Google
Workspace Add-Ons?
The integrated tool – Apps Script can be used to create scripts. With the integration of third-party tools and Google Workspace, it can become a powerful business tool in the cloud.
Google Workspace
More Customer Stories
Thousands of corporate customers from different industries have chosen TS Cloud. The following customer experience/stories will show you how these companies deal with challenges and strengthen their competitive advantages!
Contact with Our Specialists
From product requirements to supports, we will assist you accordingly.